Lamb's Retreat for Songwriters
The 27th annual Lamb's Retreat for Songwriters,
November 4-14, 2021
Directed by John D. Lamb at the Birchwood Inn, Harbor Springs, Michigan
Artists-in-Residence
Anyone who registers for all ten days, Nov 4-14, 2021.
Retreat is open to all songwriters, their friends and family.
Saturday Concerts, November 6 & 13, 2021, 8pm, might be open to the public this year.
Birchwood Inn, 7291 S. Lake Shore Drive, Harbor Springs, MI, 49740
To register for either week or all ten days, call Springfed 248-589-3913 or use any credit card online here.
Write a song. Inspirational talk/presentations. Discussions on craft/creative process. Open mic/song swaps. One on one sessions.
Good food. Great accommodations.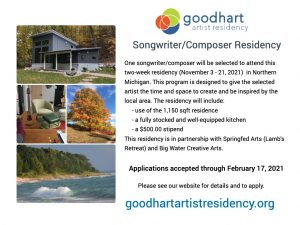 Dear friends,
We are planning to move forward with the 27th annual Lamb's Retreat for Songwriters, November 4-14, 2021. We continue to monitor this evolving situation but feel confident that our guidelines and restrictions will help to ensure a safe environment.
The retreat is our private affair. For the time being, I will not publicize the names of those registered for the retreat.
I trust that anyone who attends the retreat will adhere to the precautions detailed below:
We will always wear masks while indoors.  We will sing with masks on. If we need to sing without a mask, we will do so twelve feet from the nearest listener. We will utilize the large Fireside Room on the main level for all meetings. That room has good ventilation with ceiling fans and windows. The traffic flow is easily maintained using several exit and entrance doors in the Fireside Room and throughout the lobby.
The Birchwood Inn lobby has plexiglass installed at front desk and at food service queue. We will serve your plates with the food you request. We will maintain distance during mealtimes. We will serve bottled water and bottled non-alcoholic drinks. We will not serve glasses of wine or alcoholic beverages. As always, we can choose to stock our own rooms with beverages of our choice.
We will check your temperature upon arrival. Some folks might consider checking into their room a few days in advance to assuredly self-quarantine. We aim to create a bubble of safe and healthy songwriters.
We will not allow the outside public to attend the Saturday night concerts, or any other function.
We will not be using microphones in the same way that we have in the past.
The retreat is limited to a maximum of forty attendees, staff included. Most folks have their own rooms. We are eliminating the option for non-lodging attendees this year.
Ensuring Safety
The Birchwood Inn states this:
*48 hours of dormancy between room rentals
*We utilize Health Department approved disinfectants
*Rooms stocked to eliminate maid service unless requested
*Exterior entrances to all guest rooms
*No elevators
*Windows that open for fresh air
*Prepackaged "to go" continental breakfast
*Health Department guidelines and best practices will be followed by all staff members.
I look forward to seeing you in November.
Sincerely,
John D. Lamb
"I had such a great time and I think the song I wrote on that weekend will work for a recording,…a classy bunch of people and a privilege to be associated with John D. Lamb. After Lamb's Retreat I always think the same thing: boy, I so needed that."
–Michael Smith 
"I found Lamb's Retreat to be a beautiful setting and welcoming community of writers, who took on John's uniquely individualized song assignments with impressive results."

– Brett Perkins, Listening Room International Songwriter Retreats www.listeningroomretreats.com
Sign up to our Newsletter
Receive emails for Springfed events and classes
Receive emails for our Lamb's Retreats for Songwriters