5th annual Lost Lake Writers Retreat
October 7-10, 2021 (previously scheduled for October 8-11, 2020)

These special guests are invited to reschedule their visit for October 7-10, 2021: poets Dorianne Laux, Kelly Fordon, authors Joyce Maynard, Irina Reyn, songwriter/memoirist Amy Rigby.
Directed by John D. Lamb
Lost Lake Woods Club, a private resort in Alcona County on a lake in the woods in northeast Michigan (between Lake Huron and Hubbard Lake).
Sponsored by Springfed Arts and Inspiration Alcona.
The weekend schedule will be here.
Thursday night opens with a gala reception.  Friday and Saturday we offer talk/presentations, one-on-one conferencing and a panel discussion.  The evenings will be readings from attendees and staff.  After Sunday breakfast we gather to hear attendees read from new work they made during the weekend.
Directions to Lost Lake Woods Club using Google Maps (recommended for accuracy).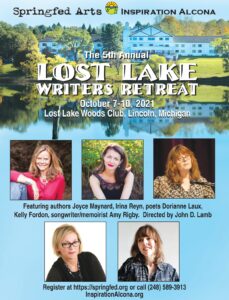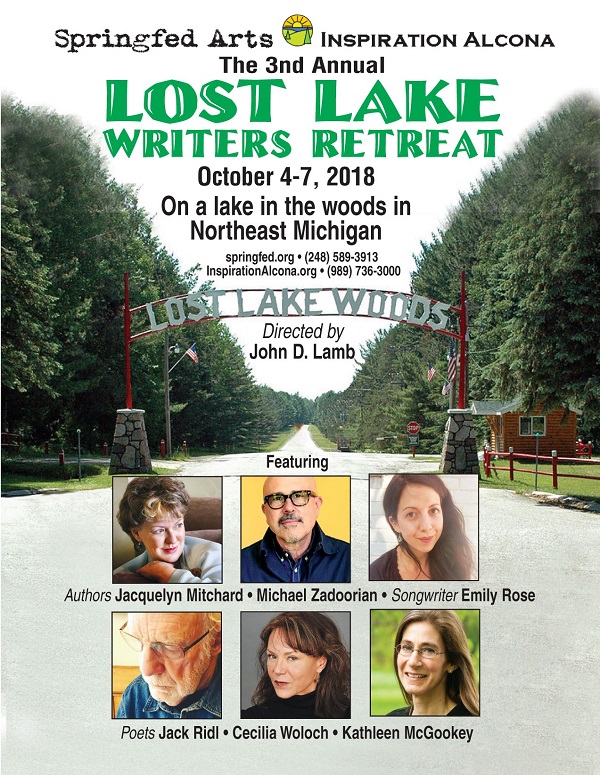 Sign up to our Newsletter
Receive emails for Springfed events and classes
Receive emails for our Lamb's Retreats for Songwriters