Lamb's Retreat for Songwriters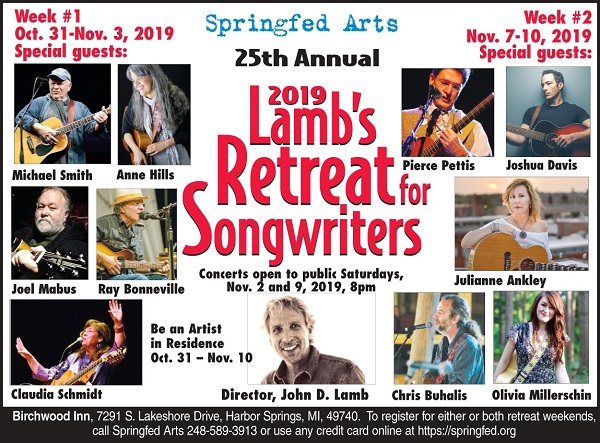 The 25th annual Lamb's Retreat for Songwriters,
October 31-November 10, 2019
Directed by John D. Lamb at the Birchwood Inn, Harbor Springs, Michigan
Artists-in-Residence
Kirby, Floyd King, Chuck Brodsky, Jack Benedict, Bonnie Couchie, Ken Bierschbach, Linden Thoburn, Bruce Smith,Michael Brennan, Wade Whittington, Samantha Goodell, Don Lee and anyone who registers for all ten days, Oct 31-Nov 10, 2019.
Retreat is open to all songwriters, their friends and family.
Concerts open to public Saturdays, November 2 & 9, 2019, 8pm, $15 suggested donation
Birchwood Inn, 7291 S. Lake Shore Drive, Harbor Springs, MI, 49740
To register for either week or all ten days, call Springfed 248-589-3913 or use any credit card online here.
Write a song. Inspirational talk/presentations. Discussions on craft/creative process. Open mic/song swaps. One on one sessions.
Good food. Great accommodations.
"I found Lamb's Retreat to be a beautiful setting and welcoming community of writers, who took on John's uniquely individualized song assignments with impressive results."

– Brett Perkins, Listening Room International Songwriter Retreats www.listeningroomretreats.com
Springfed Arts Lamb's Retreats for Songwriters 2019 Registration
Rates include Thursday night gala reception, 3 breakfasts, 2 lunches, 2 dinners, wine and beverages.
Week 1 – Oct 31-Nov 3, 2019  Week 2 – Nov 7-10, 2019
Single occupancy-3 nights Oct 31-Nov 3 ■ $650  Nov 7-10 ■ $650
Share a dbl occ-3 nights Oct 31-Nov 3 ■ $525each  Nov 7-10 ■ $525each
Non-lodge-includes meals ■$400 Non-lodge-includes meals ■$400
Sharing with________________________________________ ____________________________________
Single occupancy ALL 10 nights Oct 31-Nov 10, 2019 ■$1450
Many songwriters opt for the full ten days so they can enjoy the midweek serenity and write more.
We gather in the Fireside Room.  Songs are sung.  They're heard.
Discounted lodging rate for pre and post stays are $75 per room, per night.
Photos from previous retreats:
Photos by Charlie Auringer found on Facebook here.
Sign up to our Newsletter
Receive emails for Springfed events and classes
Receive emails for our Lamb's Retreats for Songwriters