Lamb's Retreat for Songwriters
The 26th annual Lamb's Retreat for Songwriters,
November 5-15, 2020
Directed by John D. Lamb at the Birchwood Inn, Harbor Springs, Michigan
Artists-in-Residence
Anyone who registers for all ten days, Nov 5-10, 2020.
Retreat is open to all songwriters, their friends and family.
Concerts open to public Saturdays, November 7 & 14, 2020, 8pm, $20 suggested donation
Birchwood Inn, 7291 S. Lake Shore Drive, Harbor Springs, MI, 49740
To register for either week or all ten days, call Springfed 248-589-3913 or use any credit card online here.
Write a song. Inspirational talk/presentations. Discussions on craft/creative process. Open mic/song swaps. One on one sessions.
Good food. Great accommodations.
This year's weekend schedules will be here.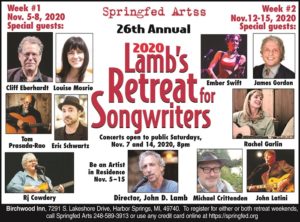 "I had such a great time and I think the song I wrote on that weekend will work for a recording,…a classy bunch of people and a privilege to be associated with John D. Lamb. After Lamb's Retreat I always think the same thing: boy, I so needed that."
–Michael Smith 
"I found Lamb's Retreat to be a beautiful setting and welcoming community of writers, who took on John's uniquely individualized song assignments with impressive results."

– Brett Perkins, Listening Room International Songwriter Retreats www.listeningroomretreats.com
Sign up to our Newsletter
Receive emails for Springfed events and classes
Receive emails for our Lamb's Retreats for Songwriters